Mobile Cranes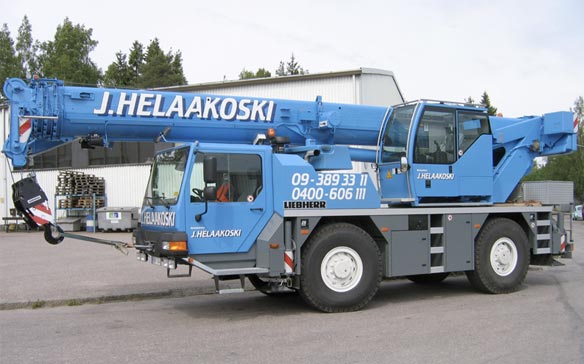 Cranes of under 100 t capacity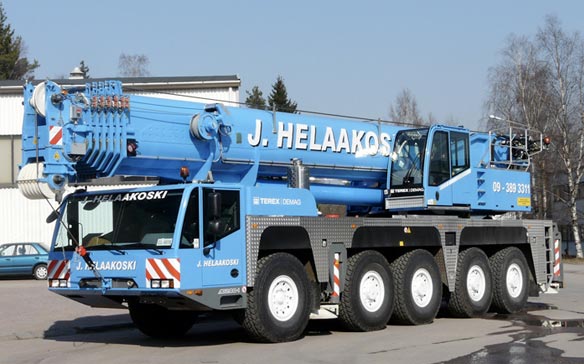 Cranes 100 – under 250 tons
Cranes 250 - 750 tons
Mobile Crane – Smooth Movement at Work Sites
At certain work sites mobile cranes clearly represent the most cost-effective alternative. The machine can be quickly setting into the lifting position, and it can easily be moved from one location to another within the work site. Leaving the work site is easy as well. The mobile crane does not pose an obstacle that could slow down the progress of subsequent stages of the work.
Mobile Cranes for Private Customers and Large Operators
The range of mobile cranes of Lifting Service J. Helaakoski Oy is extensive. Smaller 30–50 t mobile cranes are highly useful, for instance, at construction sites of single-family homes. The machines of the 50–95 t range provide flexible power to larger contractors. Mobile cranes with the largest, i.e. 100–500 t lifting capacity are capable, when required, of handling truly major lifting operations for industrial purposes, and other special-purpose lifting operations. The Liebherr LTM 1350-6.1 mobile crane owned by Lifting Service J. Helaakoski Oy, is the only one of its type in Finland. As a compact package it possesses unsurpassed lifting capacity.
Professional Mobile Crane Operators
We rent our mobile cranes with professional operators to work under the supervision of the customer's management. If necessary, we can also conclude an agreement covering the entire project, in which case we handle the lifting project, including the planning and supervision, from start to end. Our lifting services are constantly growing and developing, and therefore we are always looking for skilled mobile crane operators for new projects. Contact us to learn more.